Trends that will Revolutionize the Mobile App Industry in 2022
Vikash Soni
Considering our journey with technology, we humans have advanced ourselves to a great extent. We have evolved from using a bulky landline-sized device to now using reliable pocket-size fast mobile phones. The modern smartphone works fast, is intelligent, allows us to connect, and works efficiently. With the help of advanced applications installed on our phones, we do a gazillion tasks each day with just a few taps. Look how far we have come with technology and made our lives better. All this with just a simple-to-use device and worthy mobile applications.
Individuals spend a considerable amount of time using their phones to ease their daily tasks using Applications. Indirectly, raising a notch for mobile app development companies and developers to introduce the most competent applications.
As per the statistics:
Consumers all over the world spend 4.2 average hours daily using applications installed on their phones. For some industries, this time has gone up to 5 hours daily.
The Global market for mobile apps had an estimated value of $106.27 billion in 2019. It will reach $407.31 billion by 2026, growing at a CAGR of 18.4% from 2019 to 2026.
There will be 7 billion mobile phone users worldwide.
By 2022, spending on the App store will rise by 92%, estimating a whopping amount of $157 billion.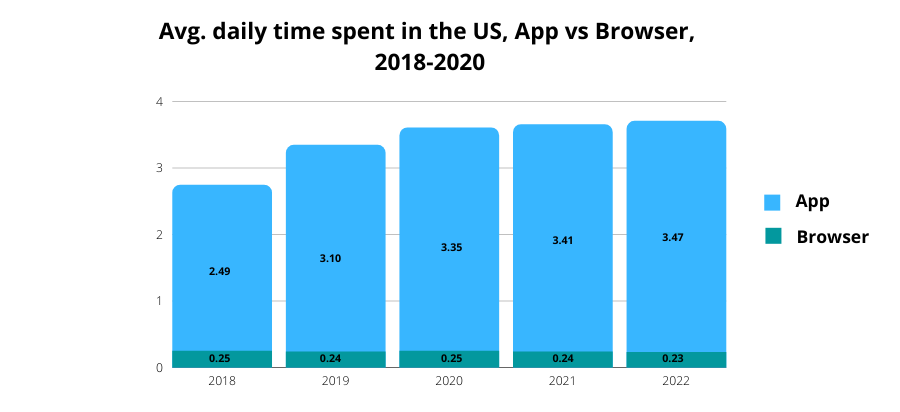 These facts themselves tell us how mobile application development has emerged and will be evolving shortly. So without further ado, let's understand which mobile application trends will rule and re-shape the mobile development industry in the future.
Mobile app Trends considered as the future of mobile application development
Applications customized for Foldable Devices
Foldable mobile phones were once a rage and now are making an entry afresh. 2019 was the year when foldable devices like Moto Razr, Samsung galaxy Fold, & the Huawei Mate X re-entered the market. The ability of these phones to adjust according to user preference sets them apart. A user can pick up an incoming call with a closed screen whereas, open a video by unfolding it to a larger screen size. For an application development company, it stands crucial to resize their application according to the foldable device. The application should seamlessly work both ways to give the user a great experience. The sale of foldable mobile phones touched an estimated 3.2 million worldwide in 2019. Statistics say the number will increase and amount to 50 million units by the end of 2022.
IoT(Internet of Things)
Every device available today is connected to WiFi. Not just to the internet, these devices are interconnected. This amalgamation creates a perfect harmony between the physical and the digital world. Thus, making it easier to track data and perform tasks from anywhere. The data is available through applications installed on mobile phones. A person can control the temperature, switch off lights, lock doors or control any operation by using applications using IoT technology.
According to the statistics, the global market for IoT technology will rise to $222 billion in 2022. Out of which, $161 billion will be from mobile applications. Households, healthcare, and the automobile industry will evolve with mobile application developments that will surpass user expectations in 2022.
Future Trends using IoT Technology:
Smart Homes
Upgraded Lock and security systems
Self Driven Vehicles
Beacons
Used for proximity marketing, Beacons are small Bluetooth devices that interact with a user's smartphone. These share information with the users to enrich their experience. Industries like Health care, Museums, Retail stores, Hotels, etc., use Beacons technology to interact seamlessly and assist users during their journey.
Example of how Retail Stores are using Beacon Technology with mobile applications:
The store installs beacons that automatically connect with a user's mobile application using Bluetooth. When the user is in proximity to the beacon installed at the store, he/she will receive information as notifications. These notifications enhance experiences and share ample product information along with ongoing information about sales and discounts.
Brands like Macy's, Walmart, & Levi's Stadium Concessions use beacon technology to sell effectively, pitch new products, launch campaigns, easy payments, and build healthy customer relationships.
Future Trends using BeaconTechnology
Mobile payment Beacons
In-store sale Beacons
By the end of the year 2022, The beacon technology market will estimate to be $52.46 million. Mobile application Development companies should develop applications that integrate beacon technology for proximity and location-based sales and marketing.
Mobile Wallets
We use our mobile phones for everything. The popular trend that has changed how users shop is making payments through digital mobile wallets.
Reports indicate $13.98 billion in transactions done from mobile wallets in 2019, which will see an expected rise to $493 billion by 2027.
Whether you are a small, medium, or big business, you need to ensure that you offer a smooth payment gateway for your customers directly through your application. Mobile application development companies, they should ensure that each application they develop should have a payment wallet for a smoother transactional journey. It indeed is not the case for every application that users use. Digital mobile wallets allow users money from their bank account, linked through their smartphone to a third party with just a few clicks. Brands like Apple, Google, PayPal, Samsung, etc., have leveraged Mobile wallets to offer a secure, convenient, & fuss-free payment experience.
AR/ VR and much more
Pokemon Go was one example of how Augmented Reality works. The storm of Pokemon Go has settled, but AR & VR technology is here to stay for longer. Gartner recently removed AR & VR from its list of emerging technologies as both of these have gained massive popularity in the past years. Their use has evolved from the Gaming industry to industries in all spheres. Healthcare, Museums, Hotels, Education, Retail, etc., are implementing these to target untapped audiences behind the screen with AR/VR apps. These tend to boost customer interaction and experiences.
Instagram and Snapchat have recently released their AR filters to transform a human face into digital characters. Also, IKEA changed how customers shop using AR. They launched IkeaPlace which assists customers to shop for furniture pieces with Augmented Reality.
For a more realistic experience of what exactly is AR, Type the Great white shark on your mobile and interact with it just in front of you.
The global market of AR & VR technology will grow from 27 billion dollars in 2018 to nearly $209 billion in 2022 – Statista.
Final Words
There are many applications available in the App Store for every Mobile User which help one to perform various day-to-day tasks with just a few clicks. Mobile applications have changed how we humans interact with technology and perform our daily tasks. As for Mobile application Developers and development companies, it's crucial to follow the current trends of mobile applications for your application to reach audiences. By keeping your application up-to-date, you will increase your sales while getting a competitive advantage as well.
The market of mobile application development is yet to unfold a lot many changes and you as a developer should make sure to keep in touch with every new trend.
Hope you found our article interesting and helpful. For more such insightful blogs, keep on reading.